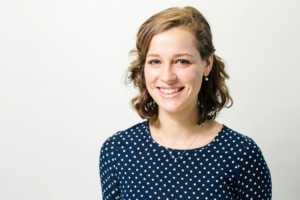 PhD, RD, MPH
PhD Students
Email Address:
Dr. Emrich is currently a Senior Program Advisor in the Office of the Chief Medical Officer of Health at the New Brunswick Department of Health.  Her areas of expertise include nutritional sciences, population health and health equity, public health policy, surveillance, monitoring and evaluation, and dietetic and public health practice.
Dr. Emrich's work in the L'Abbe Lab focused on front-of-pack nutrition labelling systems and symbols.  Her thesis work has been presented at major national and international public health and nutrition conferences, as well as published in international journals including Appetite and BMC Public Health.  Her PhD research has been acknowledged with numerous awards, including the Canadian Nutrition Society's George Beaton Award (2011 and 2013) and PhD Dissertation Award (2015).  She was a two-time finalist in the Nestle Graduate Student Research competition, and her research was awarded 2nd place in 2013.  Her PhD research and training was supported by a CIHR Frederick Banting and Charles Best Canada Graduate Scholarship, as well as fellowships from the Population Intervention for Chronic Disease Prevention: A Pan-Canadian Program Training Fellowship and the Strategic Training Initiative in Health Research: Public Health Policy Fellowship.
Dr. Emrich is also a Registered Dietitian and holds a Master of Public Health from the Dalla Lana School of Public Health.  She is a member of the Canadian Nutrition Society, Dietitians of Canada (where she serves on the executive of the Community and Public Health Nutrition Network), and the New Brunswick Association of Dietitians (where she serves on the Legislation Committee).