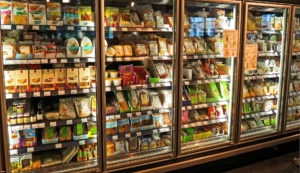 Diet quality among Canadians is poor, with less than 1% meeting the criteria for a 'healthy' diet, according to Canada's Food Guide recommendations. A large contributor to poor diet quality in Canada relates to the types of foods and beverages frequently consumed. In Canada, as in other Western countries, about 75% of the food supply comes from packaged, processed food items. Of particular concern is the increased consumption of "ultra-processed," ready-to-consume foods, which are typically energy dense with high fat, sugar and sodium content. High consumption of ultra-processed foods has been associated with the development of dyslipidemia from pre-school age to primary school age among children with higher rates of consumption, including a greater increase in total and LDL cholesterol. Additionally, about one-quarter of the average Canadian food budget is spent on food away from the home in restaurant and fast food settings. Greater frequency of eating outside-the-home is associated with higher caloric intake, and increased risk for insulin resistance and obesity.
OUR RESEARCH GOALS
Our research on the food supply enables us to monitor particular nutrients in the food supply over time (e.g., sodium, sugar or trans fat), understand the overall nutritional quality of foods available in Canada, and explore food label characteristics that drive consumer choice (e.g., nutrition claims, marketing to children, food price). This type of research helps to guide Canadian nutrition policy development, implementation and evaluation, in order to help Canadian consumers eat healthy and manage chronic diseases. In Canada, the majority of research on the nutritional quality of the packaged and restaurant food supply has come from our lab (see publications for a full listing of our research on this topic).
UNIVERSITY OF TORONTO FOOD & BEVERAGE DATABASES
All of our research on the food supply is based on our unique databases of branded food and beverage products and restaurant foods systematically collected since 2010: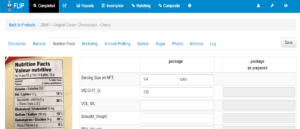 Food Label Information Program (FLIP): Since 2010, the L'Abbé Lab has maintained a database of packaged foods that is updated every 3-4 years for monitoring and testing hypotheses related to the Canadian food supply.  The FLIP underwent its most recent collection in 2020. The FLIP contains food label information for more than 80,000 food products from top food retailers in Canada. This data allows for in-depth nutritional analyses of the Canadian food supply spanning 10 years.
Menu-FLIP: Menu-FLIP is a central database containing all publicly available nutritional data from national restaurant chains with ≥20 locations Canada-wide. The latest 2016 collection contains data on 12,215 menu items from 96 establishments. With this  collection, analyses of changes in the restaurant food supply from 2010-2016 are now possible on a national level, as well as analyses on a provincial level (Ontario) up to 2017. Learn more about our restaurant research here.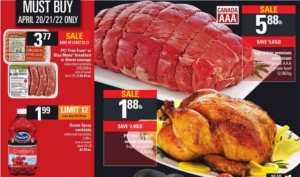 Flyer-FLIP: Weekly online flyers from two primary and two discount grocery stores were collected from store websites for five consecutive weeks in spring (April-May) and five consecutive weeks in fall (October-November) of 2017. These collections allow for the analysis of >8,000 food and beverage products promoted in the flyers of top primary and discount grocery banners in Canada.
RECENT STUDIES
See our Publications section for a full listing of our research. Some of the studies we have done using FLIP and Menu-FLIP include: